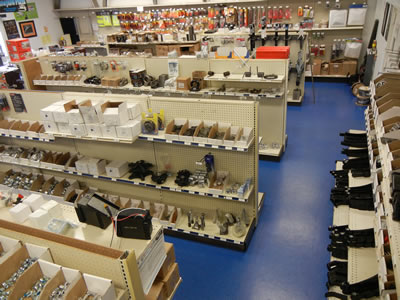 When it comes to trailer parts, no one can match R W Trailer Parts' combination of inventory selection, product knowledge, and dedication. If we don't have your part, we will be happy to take special orders. Our staff has over 30 years combined trailer repair experience, and has 2 former Maryland State Trailer Inspectors on staff. There isn't much we haven't seen or ordered for our customers! Have a part that is hard to find? Bring it in. We love a challenge!

We stock wheel bearings, races, grease and oil seals, tires and wheels, hydraulic lines, electronic and hydraulic brake actuators, trailer wiring kits, vehicle wiring kits, axle and undercarriage parts, leaf springs, brake parts, axle grease, ball mounts, hitch balls, a variety of lynch pins, fenders, jacks, hubs, drums, a huge variety of trailer lights (incandescent and LED) and much more! Stop in and see our selection!

We stock parts for landscape and construction trailers, as well as marine trailer and RV parts. We sell complete hydraulic and electric brake backing plates as well as the individual parts on them. We stock disc brake conversion kits, disc and drum brake actuators up to 20,000# rated, master cylinders, wheel cylinders, brake line kits or individual hoses or tubing in many sizes, as well as the fittings needed to put them together. For electric brakes, we stock magnet kits, adjusters, individual springs, hold-downs, shoes and anything else you can think of.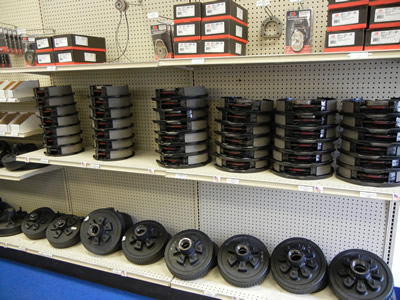 We have complete wiring kits with or without lights, as well as all lights available individually, and wire cut by the foot. We also have terminals, butt connectors, scotch-loks, frame wire clips, heat-shrink, loom, bulbs, and terminal grease. We have wiring diagrams available to help you in your installation.

We stock tires on or off the rim (13" and larger available off-the-rim) in galvanized or painted, valve stems, rims, lug nuts, wheel studs, wheel bolts, lug wrenches, chocks, jacks, and more.

We have jacks of all types up to 15,000# drop-leg. We have A-Frame jacks from 2,000# - 5,000# rated, pipe-mount and snap-ring swivel (heavy duty) and marine bolt-on 1,000#-1,500# rated. We also stock jack repair kits for most Bulldog jacks, from gear kits to handle replacement.

We have complete electronic breakaway kits, as well as individual parts, switches, batteries, boxes, and cables. We also stock terminal junction boxes, all trailer receptacles, and all vehicle to trailer plug adapters.
Please stop by anytime to browse and introduce yourself. We love to show off our new store!